The need for leadership development has never been more urgent. Companies of all types already know that to survive in a volatile, uncertain, complex and ambiguous environment you need leadership skills and organizational competencies different from those that made them successful in the past. There is also growing recognition that leadership performance should not be restricted to the few C-level executives. With the proliferation of collaborative problem-solving platforms and digital "sweeteners" (cooperative groups and teams that organize themselves on a project basis) that stimulate individual initiative, board members expect to make important decisions that align with corporate strategy and culture. It is important, therefore, that companies are equipped with technical, relationship and communication skills.
The leadership development sector, however, is undergoing a turnaround. The number of institutions offering courses on technical and interpersonal skills required of corporate managers has skyrocketed. However, organizations that together spend billions of dollars annually to train current and future executives are increasingly disappointed with the results. Several comprehensive industry studies and in-depth client interviews indicate that more than 50% of senior leaders believe that their talent development initiatives do not create critical skills and appropriate organizational capabilities (see box "The Problems of Traditional Executive Education").

Three reasons explain the disjointed state of leadership development. The first is a gap in motivations. Organizations invest in executive development for their own long-term benefit, but employees participate in order to improve their skills and promote their own careers, and they do not necessarily stay with the employers who fund their training. The second is the gap between the skills that executive development programs provide and what companies require – primarily interpersonal skills essential to thrive in flat, networked and increasingly collaborative organizations. Traditional providers have the expertise to teach cognitive skills and measure their development, but have far less experience in teaching people to communicate and work collaboratively effectively. The third reason is the skills transfer gap. Basically, few executives seem to teach what they have learned in class and apply their knowledge to their daily activities – and the further away the locus from application, the wider the gap becomes (see box "The skills transfer gap: what you learn is rarely applied"). To develop essential leadership and entrepreneurial talent organizations need to close these three gaps.
The good news is that the growing variety of online courses, social and interactive platforms and learning tools from both traditional and newer institutions – which form what we call the "personal learning cloud" (PLC) – offer solutions. Organizations can select PLC components and tailor them to the needs and behaviors of individuals and teams. The PLC is flexible and immediately accessible and allows employees to acquire skills in the context in which they will be used. In fact, this is a 21st century form of professional learning. In this article we describe the evolution of leadership development, the dynamics that drive change and the ways to manage the emerging PLC for the good of both the company and its employees.
THE STATE OF LEADERSHIP DEVELOPMENT
A multitude of emerging players have allied themselves with traditional players in the leadership development sector – business schools, corporate universities, companies specializing in training and consulting. Among the newest players are human resources advisory firms, large management consultancies such as McKinsey and BCG, and digital startups such as Coursera and Udacity. This is a rapidly changing landscape of service providers, but it is a world we need to know intimately as educators, consultants and leaders of executive education programs at Rotman (in the case of Mihnea) and Harvard Business School (in the case of Das). And to help us better understand the situation, we've developed a table that compares the actors (see "The Provider Scenario" chart).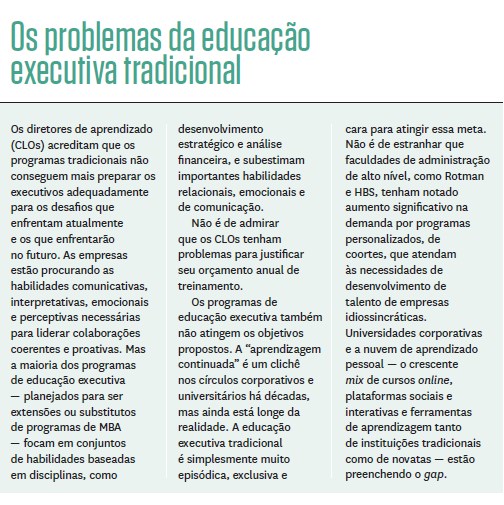 We are now looking at powerful trends to reshape the sector and stimulate the emergence of PLC as a networked learning infrastructure. First trend: PLC has reduced the marginal costs of establishing itself in a home-based learning environment and allowed human resources managers (CHROs) and learning managers (CLOs) to make more informed decisions about the right experiences for the people and teams in their organizations. A Unicon study reports that the number of corporate universities – providing distance and on-demand courses that can be followed at home or even at work – has exploded to more than four thousand in the United States and more than doubled worldwide. However, we believe that even if companies offer learning opportunities for more leaders in their organizations in the future, the changing cost structure resulting from digitizing learning environments will lead to only a small increase in resources allocated to leadership development.
The second trend is the decline in standard classroom-based programs for executive development, such as those offered primarily by traditional business colleges and universities. Most organizations demand pre- and post-acquisition measures and the application of relevant skills –
as communication skills and leadership expertise – which have never been addressed by traditional programmes.
The third trend is the progressive increase of personalized learning environments through platforms and applications that customize content according to the roles of executives and the needs of their organizations. The dominant platforms now have millions of individual course registrants and tens of millions of total users.
These trends are connected and form a cohesive pattern: as teaching becomes personalized, socialized and adaptive, and organizations become more sophisticated in measuring the return on investment in talent development, the industry is abandoning pre-packaged, one-size-fits-all material and adopting PLC. PLC enables the fast and low-cost creation of corporate universities and distance learning programs in the same way platforms like Facebook and Instagram facilitate the formation of discussion groups. It is the "Petri dish" that encourages the rapid growth of learning communities. And it's vital to keep managers engaged and growing in the company.
Sustaining and amplifying these trends is the rapid digitization of content and interaction, which is reshaping the leadership development segment in three important ways. First, it allows for the separation (or break-up) of low-cost elements from high-cost elements of the program. Education providers' profits depend on their ability to dose low-cost content – lectures, case discussions, exercises, and the like – with high-value experiences such as personalized coaching, project-based learning, and intensive group feedback sessions. The more human interaction services are included in the package, the more the provider can charge.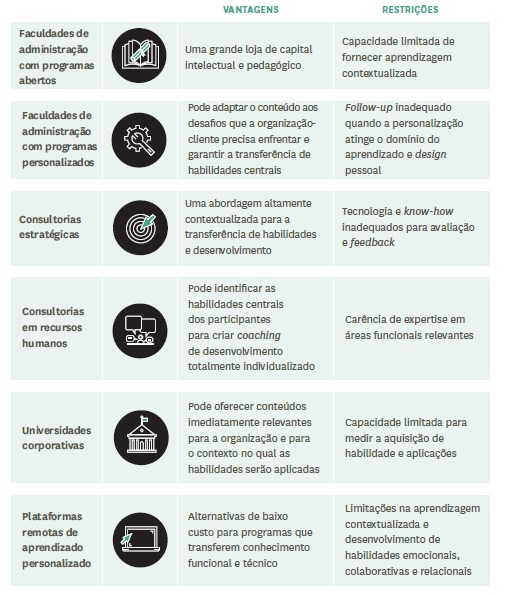 Second, scanning allows you to deliver value more efficiently. Classroom lectures, for example, can be recorded by videotape and then watched online by a larger number of interested parties at their convenience. Likewise, group discussions and discussion forums to deepen and sediment lecture concepts can be orchestrated online, often via platforms such as Zoom, Skype and Google Hangouts, allowing the participation of much more interested parties – and with less trouble and expense. Millennials are already used to interactions via social media, so the value of being physically present on campus may be wearing thin. And because the isolated components of an online education program – individual classes, case studies, and others – can be priced and sold independently, the cost of developing various skills has been reduced – especially technical and analytical skills whose teaching and learning have become quite standardized.
Finally, digitalization is leading to disintermediation. Traditionally, universities, business schools, and management consultancies have served as intermediaries between companies and their employees and educators – academics, consultants, and coaches. Now, however, companies can access the Internet to identify (and often select) more qualified teachers, learning experiences, and modules – not just the best quality programs. Meanwhile, instructors can act as "free agents" and get better pay or promote more satisfying classrooms, escaping the routine and wage restrictions of their affiliated organizations.
THE RISE OF THE PERSONAL LEARNING CLOUD
The PLC has been taking shape for about a decade. Its components include free massive online courses and platforms such as Coursera, edX and 2U that offer interactive online content, corporate training and development ecosystems from LinkedIn Learning, Skillsoft, Degreed and Salesforce Trailhead, which aim for rapid mastery and proven proficiency of core skills in interactive environments, on-demand approaches, with a focus on leadership development solutions such as McKinsey Academy, BCG Enablement and DigitalBCG, and talent management platforms such as SmashFly, Yello and Phenom People, which allow you to combine learning needs with candidate results with recruitment, retention and promotion decisions.
PLC has four features:
1. Learning is customized. Employees can follow the skills development program or develop the topics that interest them at their own pace, using media optimized according to their learning style and work environment. PLC allows organizations to follow the progress and results of the participants and propose the development and organization of modules and content on the spot, to meet the evolving needs of people and teams.
2. Learning is socialized. As the experiences of the Harvard HBX series and McKinsey Academy have shown, learning improves when participants collaborate and help each other. Knowledge – both know-what and know-how – is social in nature. It is distributed within and among groups of people who use it to solve problems together. PLC allows the organic and planned formation of teams and cohorts of participants involved in developing new skills and abilities.
3. Learning is contextualized. As our interviews revealed and as recent LinkedIn Learning evidence showed, most executives value the opportunity to develop professionally at work in ways directly relevant to their work environment. PLC offers this possibility and allows them to learn in a workplace setting and helps ensure they apply the knowledge and skills they have acquired.
4. The learning results can be followed up in a transparent way and (in some cases) with the issuance of certificates. PLC valuation does not imply the end of accreditation or valuation of titles, diplomas and certificates. Quite the contrary: it leads to a new era of skills and abilities based on certificates that serve to completely dismember the professional level. In fact, today no more time and money is spent to complete a professional degree, as organizations accept certificates and micro-certificates that attest to the training of specific skills. And undoubtedly the always available certificate is becoming a reality with the emergence of blockchains and distributed records – like those of Block.io and Learning Machine. Microcredits are proliferating because the PLC allows secure tracking and auditable verification of professional registration and completion.
PLC enables CLOs and CHROs to be precise about both the skills they want to cultivate and the educational programs, trainers and learning experiences they want to use. The expanding PLC system covers a wide range of skills. At one end are functional skills (such as analysis of financial statements and big data analytical methods) that require cognitive thinking (logical reasoning, calculations) and algorithmic practices (do it first, do it later). PLC is already able to help people learn these skills at their own pace and in order to meet their professional needs. At the other end of the spectrum are more difficult skills to teach, measure or even articulate. They have important emotional components and are largely non algorithmic. These skills include leading, communicating, relating, and energizing groups. Mastery of this area depends on practice and feedback, and PLC is becoming better at aligning talented coaches and development experts with the people and teams who need this training.
But this is just the beginning. PLC is apparently an efficient answer to close the skill transfer gap, which makes proficiency in communication and relationship in traditional executive education programs so difficult. Lasting and meaningful behavior change is a complex process that requires personalized and timely guidance. Startups such as Accompany.io and Butterfly Coaching & Training are providing executive teams with an interactive activity framework that emphasizes mutual feedback and allows them to learn on the job while performing their usual activities. BCG's Amethyst platform allows executives and their teams to learn developmental relationships with mediators and facilitators in order to create the collaborative capital they and their organizations need.
The abundance of online training material allows CLOs to choose executive education components at levels of granularity simply impossible until now. They can acquire from the PLC only experiences they consider to be of greatest value – usually at a lower cost than packaged alternatives – from a huge number of providers, including products, plus coaches, consultants, anywhere, anytime. And executives can purchase experiences that meet specific objectives – such as developing new networks – from institutions like Singularity University and the specifically designed Kauffman Founders School.
For participants, PLC is not only an interactive learning cloud, but also a distribution cloud of microcertificates. The blockchain's traceable microcertificates, granted at the conclusion of the project, are not only an interactive learning cloud, but also a distribution cloud of microcertificates.
are courses in specific skills (not specific topics), allow people to demonstrate credibility (without the slightest possibility of counterfeiting) both to organizations and the market that they are competent in a particular skill. PLC also helps to bridge the motivation gap, allowing both organizations and executives to know what they are buying and pay only for what they need, when they need it.
Finally, PLC is significantly reducing executive development costs. Traditional programs are expensive. Courses last on average five days, and organizations spend between $1,500 and $5,000 per participant per day. These figures do not include the costs of selecting participants or evaluating the application of newly acquired skills, nor do they assess the extent to which these skills are transformed into organizational capability. These figures do not account for any losses when participants decide to use the success of their recent education and social capital to change jobs. Assuming conservatively that these pre- and post-training costs can reach 30% of program costs, externally provided executive development can cost the company $1 million to $10 million per year, depending on the industry, organizational culture and structure, and the nature of the programs in which the company invests.
On the other hand, PLC can offer skills training to anyone at any time for a few hundred dollars a year. In addition, these cloud services allow organizations to adjust costs to value, provide customer relationship management tools that can include pre-assessment and management performance tracking, and deliver specific functional skills from high standard on-demand providers via high visibility and high reliability dedicated platforms. Thus, an organization with 10,000 employees could offer half of its employees a one-year intensive skills development program through a cloud-based learning framework, created and maintained internally for a fraction of what it currently pays to providers that provide equivalent programs.
WHAT THE FUTURE HOLDS
For companies using PLC, the fixed costs of talent development become variable costs with measurable benefits. Massively distributed content knowledge bases and learning techniques ensure low marginal costs per participant as learning becomes adaptive. The ability to clearly specify the skill set in which to invest and the ability to measure the improvement of employee learning and business capabilities will ensure that a corporate university's (variable) cost base can be optimized to fit the organization and adapt if necessary.
Participants will benefit from a wide range of more specific products that today's diploma and certificate ecosystems offer, with the ease of proven skills acquisition and transfer in a secure distributed computing environment. People will be able to map customized learning journeys that meet both the needs of their organizations and their own career-related development needs and interests. And as PLC reduces the marginal and opportunity costs of learning an important skill while making it easier to prove proficiency, many more people will be attracted by the affordable price and believe it may be worth investing in professional development.
Meanwhile, as CLOs become more familiar with the skill development structures that providers use, the value placed on the products of traditional providers will diminish because their programs will become easily replicable. This can already be seen in the growing number of true "cooking contests" that renowned management colleges need to participate in to win corporate business. Recently, a prestigious global financial services company considered training proposals from at least ten top colleges in the final round of evaluation – reflecting market competition that had not existed for five years.
The increased competition will force incumbents to focus on their comparative advantage, and they need to keep an eye on that advantage as PLC becomes more sophisticated. We have already noticed that the breakdown of content and the increase in "free agent" instructors have allowed new entrants to work directly with prestigious teachers, thus decreasing the amount charged by many traditional executive education programs.
Now PLC is beginning to venture into the realm of classroom-like experiences that prioritize human contact, with live case studies and "active learning" programs that involve web-based case discussions and customized opportunities to address real problems. These advances have been made possible by the ability of online learning environments to offer sessions involving multiple people simultaneously and to monitor participants via eye movement tracking and eye tracking technologies. IE Business School in Madrid, for example, uses technologies that monitor facial expressions to measure the involvement of participants and facilitators in its online executive education programs. The Rotman Business School's Self Development Laboratory uses an emotional spectroscopy instrument to record people's voice, face, and gaze as they talk.
Business schools will need to significantly rethink and redesign their current products to achieve their specific ability to create teaching and learning content and to track user-specific learning outcomes. They need to position themselves as competent selectors and reconfigurers of reusable content and learning experiences in a marketplace where organizations should be guided on the best ways to develop and test new skills. Given the high marginal and opportunity costs of on-campus education, business schools will need to reconfigure their products to offer mixed, customized programs that privilege the classroom only when needed.
Meanwhile, those new to leadership development are benefiting significantly from the distributive nature of PLC – hand-picking content, modules and trainers from across the industry to bring together the most attractive products for their customer organizations. Major consultancies like McKinsey and BCG can leverage their deep knowledge of tasks, activities and organizational capabilities to provide clients with a new generation of flexible learning experiences along with their traditional "solution plans": strategic, organizational, operational and financial. Other entrants – such as human resources consultants – can rely on privileged access to organizational talent data (selection metrics and traits of the most coveted applicants) to design "personal development days" allowed by PLC for new hires, guided by best practices to develop skills and track learning outcomes.
For individual participants, acquiring new knowledge and putting it into practice in the workplace requires significant behavioural change – something that the skills transfer gap finds very difficult and costly to achieve using purely didactic methods such as lectures, questionnaires and tests. However, applications that measure, track, and shape user behavior are a powerful way to make prescriptions and prohibitions objectionable every day.
In the past, it was difficult for traditional leadership development players to provide a return on investment on the various individual components of their packaged programs. But PLC enables the acquisition and transfer of skills to be measured at participant, team and organisational levels – in a per-program, per-session, per-interaction scheme. This should create a new paradigm of micro-optimization in leadership education – one that makes less of a distinction between learning and doing. Compensation will be significant if a new concept, model or method makes a difference to an organization, and it needs to be used by its executives, not just intellectually understood. And as platforms change the nature of talent development, leaders will have the skills – and practical applications in the real world – to do the right thing, at the right time and for the right reason.
Mihnea Moldoveanu is a professor of integrative thinking, vice president of learning, innovation, and executive programs, and director of the Desautels Center for Integrative Thinking at the Rotman School of Management, University of Toronto.
Das Narayandas is a professor and senior associate dean of international relations at Harvard Business School. He is also senior associate dean of Harvard Business School Publishing.